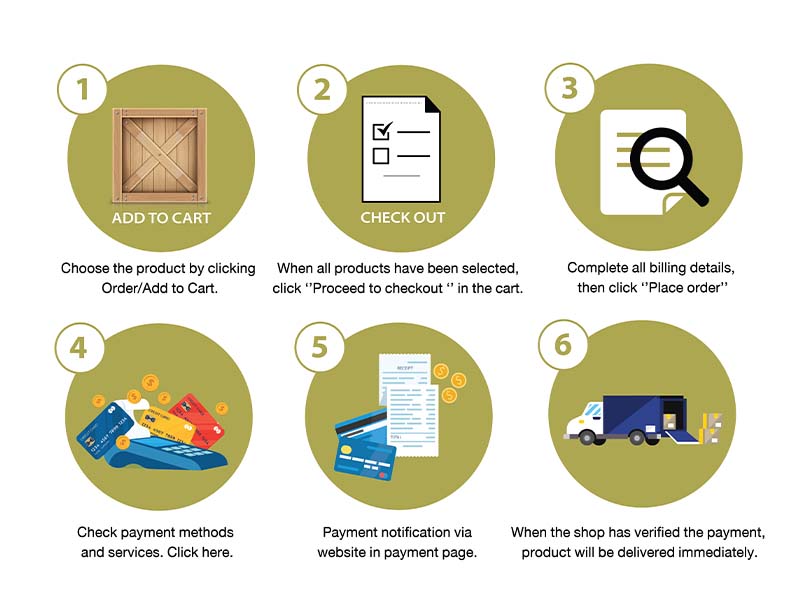 Order Policy
Please specify or fill out the delivery address clearly so that products can be received quickly and accurately. For products shipped to 25 countries, the price includes shipping costs.
For Thai customers, free shipping. except for orders of 50 pieces or more
For other countries * Please double check the additional shipping costs. Ask the customer to confirm the order within 3 hours. Upon receiving the goods from BANGKOK CRAFTER, the signature of the recipient from the sending company is the priority.
For international customers traveling to Thailand for purchasing the product with BANGKOK CRAFTER in person, BANGKOK CRAFTER reserves the right to order no more than 3 items per year. BANGKOK CRAFTER will re-calculate shipping cost. Please confirm the order within 3 hours. If the customers wish to order a large number of products, customers may use the contact methods provided.
Apply for a membership with BANGKOK CRAFTERS to receive information and the latest promotions offered. Register by filling out a short questionnaire. Please confirm the product, amount, location, and country before sending to prevent delays and other issues. Click to consent user personal information through our system only.
In the case of Thai Citizens who want to order our products, please contact us to apply for membership before ordering by clearly specifying ID to get special price.
Payment will be made in US dollars only. Please wait for the product confirmation from our staff by phone or email before making the transfer. In case the money has been transferred to the account, please send the email and the money transfer slip to bangkokcrafter@gmail.com or notify the money transfer receipt here. For the next order, users may enter membership code to order straight away without having to specify the same details again.
BANGKOK CRAFTER products are manufactured from natural materials. It may cause product color irregularities and the size may vary 1-3 cm approximately plus or minus from the listed measurements. From the colors shown on the website and the colors of the actual products may vary due to the light of photography or display settings of each screen.
Each product is handmade. Details and patterns of each product there may have slight differences.
The product is woven from natural materials. It may result in the joints between the fibers forming which is not caused by a defective or damaged product.
If the customers not satisfied with the products of BANGKOK CRAFTER, please return the products within 7 days by returning the product with the parcel number and attaching the proof of delivery to BANGKOK CRAFTER. After received the returned products, only the cost of the product will be refunded within 15 days of receiving the returned product.
If products are out of stock, BANGKOK CRAFTER takes approximately 15-30 days to produce per piece. The company reserves the right without prior notice in all cases (Including canceling production).